Whether it is your first date or your first-anniversary date – a large part of a relationship is keeping the other person interested and excited, and your date choices will play a massive role in that. However, when you're in the initial stages of getting to know someone, choosing a location for a date can be one of the most stressful decisions to make. Fine dining used to be a no-brainer for a romantic date; however, these days, many men are opting for more casual settings. This means many men are unfamiliar with how to engage in fine dining when they wish to take a lady to one of these establishments to impress her and create a more romantic mood. In this article, we guide you through fine dining and explain why it is still the number one setting for fine dating.
Planning a Fine Dining Date Experience
The meeting place you choose will tell the other person a lot about you, such as the kind of person you are, what you're like as a romantic, and how much you care about getting to know them. Making a wrong choice could lead to you inadvertently turning off your date before they have even sat down, while a good date location could win you a second date before the first has even started.
The good news is, if you are already here reading this article then you're on the right track to picking a winning date location. Follow our tips and we'll make sure you keep racking up brownie points with your date all night long!
Who should choose the date location?
We've all experienced the awkwardness of planning a first date, and more often than not the conversation involves an awful lot of overly-polite "I don't mind" and "no, you choose!" kind of language. Someone has to take charge in this situation, but should you be the one to pick a location for a first date?
The answer to this question will ultimately depend on the woman you're trying to impress; however, if they seem to be taking the "I don't mind" route – this is the signal you need to take charge and woo her with a location that will tell her what kind of person you are and what your idea of a good time is. If you choose a dining venue that is new to her and considered high class you tell her that you are the kind of man she may be able to have new experiences with. Dating is supposed to be exciting and fun for people, so by choosing a restaurant that is considered classy you signal to the woman that she can have new exciting experiences with you. So choosing a good restaurant or bar to meet at for a date will usually increase a woman's level of attraction to you by getting her excited about the new experience she will have with you. On the other hand, if you allow the woman to choose the location it can signal to her that you're a very laid back person, but this isn't necessarily good for building attraction. Many women consider easygoing men to lack ambition, which is not an attractive quality in a man. Lastly, the proper etiquette for asking anyone to meet is that the person inviting someone else for an outing chooses the venue.
Why choose fine dining for dates?
As you probably know by now, for some men the process of choosing a first date location can be a high-pressure scenario, and a decision that could leave you overthinking for days. It's no secret that women will read into your choice of date location and use it to judge your level of interest in them – but how do you choose something that you both will enjoy? Fine dining is a winning choice for a date (whether it's your first or 100th), and there are several reasons why.
Firstly, many of the most common options people have dinner dates at are chain restaurants. This means your prospective date may be used to men taking her to Buffalo Wild Wings or Chilis, or perhaps even Hooters. So it is difficult to build excitement for a date at a venue the woman has been to several times over. When a woman first begins dating in high school or college guys may even take her to fast food chains and food trucks for dinner, which quickly gets old. So if you wish to stand out from the crowd of men she has previously dated, the simplest way to do this is to choose a venue she is unfamiliar with and promises higher quality food and atmosphere than she is used to experiencing.
Choosing a fine dining experience for a date also sends a signal to a woman that you belong to a higher class of men than she may have dated in the past. Elite Singles, a dating site that caters to highly successful men and women, found in a survey that the most popular first date locations were local restaurants and fine dining.
Another good reason for fine dining is that these establishments have dress codes, so you will get your date to dress her best by selecting this venue. By choosing a fine dining venue that requires you and the woman to both dress up for the occasion, you not only get to see her at her best, but she has to put some effort into dressing up for you. Getting a woman to invest the time to look her best for you has the psychological effect of increasing her attraction level, as the more time and effort that a woman invests into a man increases her attraction for him. The woman might even go shopping to update her wardrobe just for this date with you. This means her expectations for the night increase as well, which is something you should be mindful of. Don't tempt her with the promise of a fine dining experience and then try to go cheap on the bill; that will just upset her. On the other hand, if you deliver on the expectations she has, then the night may go exceedingly well for you both; that is ultimately what you want on a first date, right?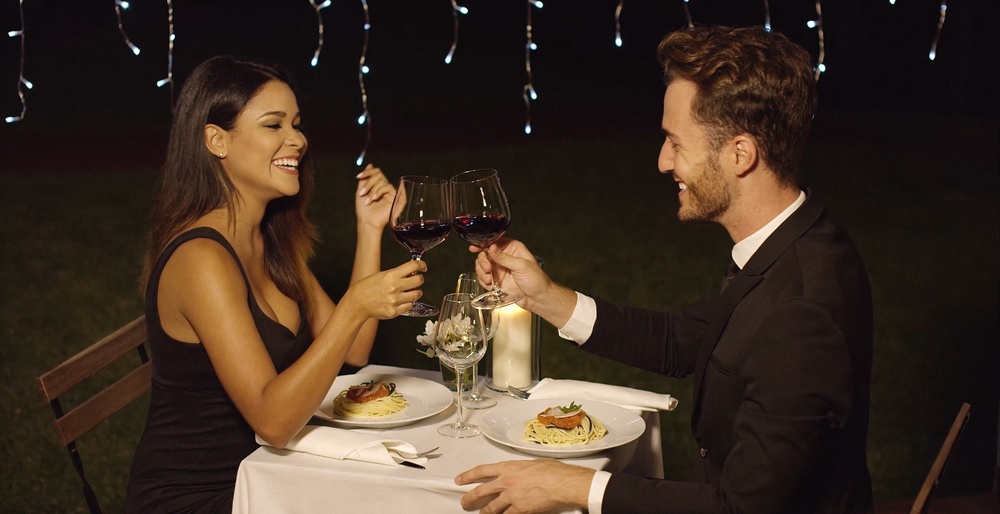 First Date Checklist for Fine Dining
When it comes to the perfect date location, there are several key boxes that you'll need to tick in your first date checklist:
It needs to be quiet and intimate enough to have a conversation, but there cannot be too much romantic pressure.
The location shouldn't be too overcrowded.
It shouldn't be too casual, as you want to show your date you're taking them seriously.
It should be fair priced.
Fine dining restaurants can tick all of these boxes, providing the perfect balance of romance, excitement, and that kind of soft lighting that has you both looking your best. Fine dining venues are the ideal location to get to know your date better. The quiet surroundings, fine foods and quality wine will have the conversation flowing freely, ensuring you and your date get to know each other and have a successful evening. It also sends signals to your date that you are seriously interested in getting to know them, and don't just see them as a cheap fling.
How to choose the fine dining restaurant for your date
Depending on where you and your date are based, there could be a range of different fine dining restaurants to choose from – so, how do you know which one your date will like best? This is an excellent time to chat with your date and find out a bit more about the types of food they like. You don't have to interrogate them; a few simple questions should clear up whether or not they like fancy locations, their favorite foods, and if they have any dietary requirements (don't leave it too late to find out they are a veggie!). Simply ask your date what type of foods she enjoys eating and she should tell you. Then simply use Google or Yelp to search for locations that serve those kinds of foods and are rated at least four stars. It would be best if you also looked at the photos and reviews other guests have left on these review sites, as this information will give you an impression of the restaurant's atmosphere and quality.
While you may not want to head to the most expensive spot in town, it's still important that the restaurant you choose has a pleasant atmosphere that could lend itself to romance if the date was going well. The best way to do this is to read the reviews. The reviews should tell you whether a restaurant gets overly busy, plays music too loudly, has sub-par food, or has terrible service. While there's no secret formula for a perfect date, and there's always room for things to go wrong, choosing a date spot that has good reviews will help you have an enjoyable time.
You should also call and make a reservation for your date, or use the online reservation system if it has one. Fine dining restaurants typically are busy and you must make a reservation to attend one during dinner hours. This is also the best way to ensure you are seated in a good location, too.
What's the best cuisine for a fine dining dinner date?
Everyone has a favorite cuisine, but not all cuisines are well-suited to a romantic date. Certain cuisines are a messier than others, and restaurants that specialized in shared plates can be a hit or miss for your first date, depending on whether you and your date are comfortable sharing a plate of food with a stranger. In the best-case scenario, your date has already told you their favorite foods, but if not – which do you choose?
Italian restaurants are usually considered the number one type of food for romance. Italian fine dining restaurants also typically offer a menu packed full of crowd-pleasing foods. Portions of pasta, cheeseboards, and tiramisu are usually a sure-fire way to anyone's heart, especially when eaten in a romantic, candle-lit setting. Pretty much everything on a menu at an Italian fine dining restaurant will pair well with red wine, too. However, if you want to impress your date with something a little more experimental – why not try Spanish or Japanese cuisine? Both of these cuisines offer sharing platters, which are a great way to break the ice on a date and find common ground that you can bond over (whether that be your mutual love for avocado rolls or patatas bravas).
French cuisine is also a natural fit for fine dining, too. French fine dining restaurants typically have full meal courses that incorporate game the woman may consider exotic, such as duck. Similar to fine Italian food, French cuisine pairs well with wines, too.
The third best option for fine dining is the steakhouse. We're not talking about chain restaurants like Texas Roadhouse or Outback Steakhouse; these are excellent first date choices as well, but they are not fine dining. You'll want to find somewhere such as The Capital Grille, which, while it is a chain of steakhouses, is a chain that specializes in fine dining, much like luxury hotel chains specialize in fine hospitality experiences; in fact, the The Capital Grille in your city may even be based in or near a five-star hotel resort. Most fine dining steakhouses are local restaurants however, and chains such as The Capital Grille are rarer. You will need to do your research to see what options exist in your own city.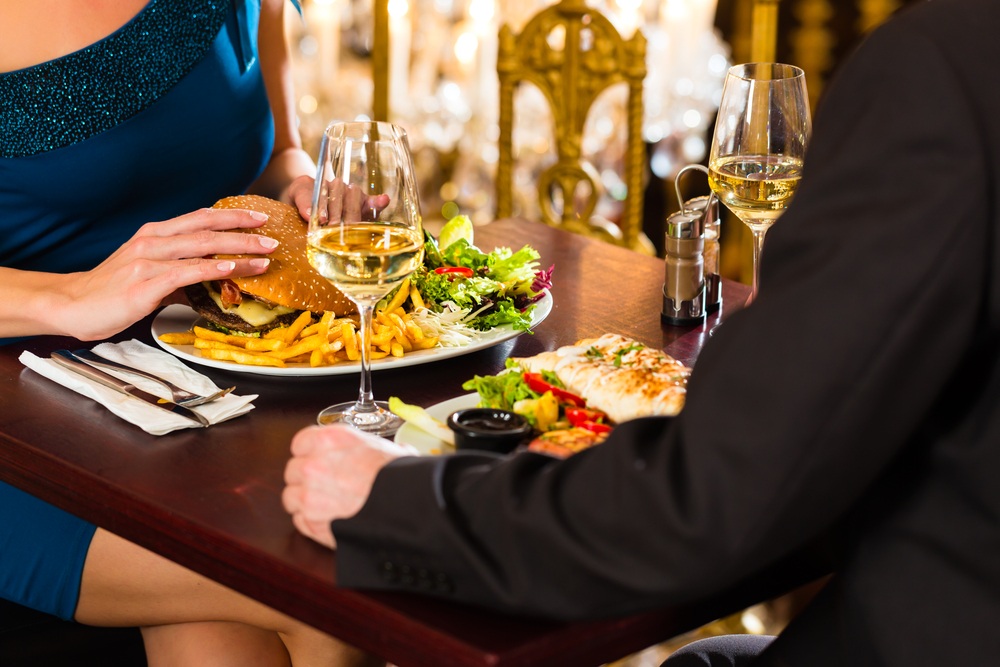 Another option for fine dining that is trendy in large cities such as Los Angeles is high-end Japanese sushi restaurants. While sushi is very common at family restaurants, sushi can still be a fine dining experience at five star restaurants. As an exception to the normal rules of fine dining, beer can be drank with sushi as it pairs well but you must choose a light crisp beer, such as one of the Japanese import lagers that will be available at the restaurant. For wine you want a light wine, such as a rosé or pinot noir. In regards to spirits it should go without saying that sake pairs the best with sushi.
What Clothes Should a Man Wear to a Fine Dining Restaurant?
Without question, the bare minimum dress code for most fine dining restaurants will be business casual attire, with khakis, a dress shirt, and a sports jacket. A business suit is a safe choice. You can opt to go with or without a tie, depending on your suit style and the venue itself. Your clothing should of course also be clean and pressed; it is a good idea to have it freshly dry cleaned to ensure it has no musty smells if you have not worn it in awhile. This goes without saying but your clothing should also be tailored to ensure it fits you properly.
When dining indoors your jacket should be unbuttoned and worn for the entire meal. Never drape it over a chair behind you. The only time it is appropriate to remove your jacket for fine dining is if you are dining outdoors and the weather is warm.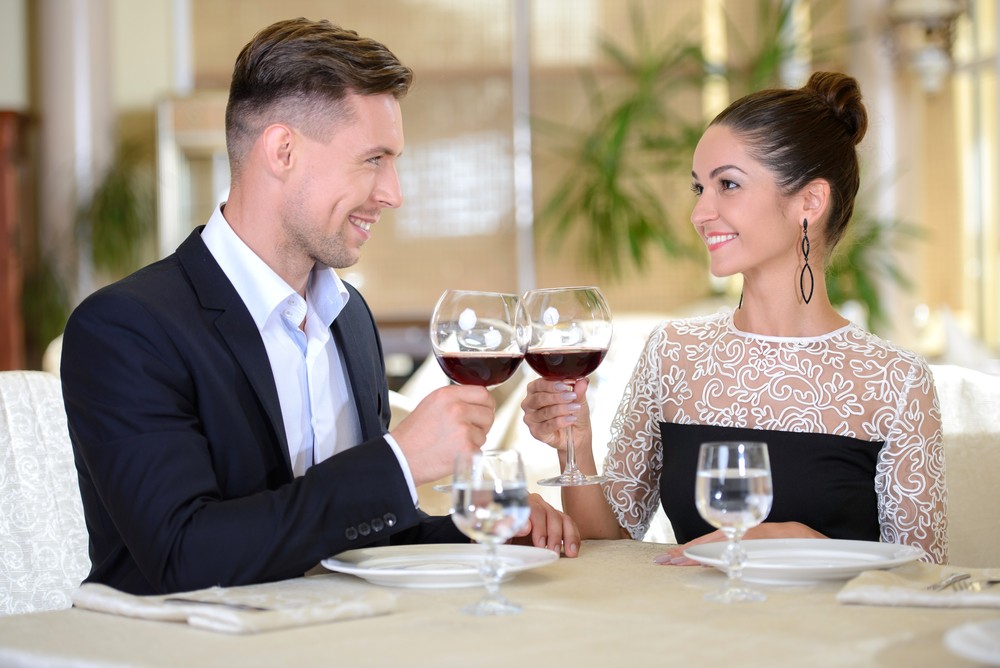 A tuxedo would not be appropriate to wear on a first date to a fine dining establishment, unless your first date is also a formal party. Tuxedos are menswear only for attending parties, and if you wear a tuxedo to a first date for just the two of you, you will be considered over-dressed which in addition to making you look silly can make your date feel under dressed and embarrassed.
When choosing shoes to wear for your date, ensure you are wearing dress shoes that match your outfit. If you wear sneakers you will stand out in a bad way.
On this same note, ensure you have bathed and groomed yourself before your date. Although you are going to eat, you want to make your best first impression, so you should brush your teeth before arrival so that your date sees you in your best appearance. You should also bring mints with you for after dinner; most fine dining establishments will provide mints at the end of the meal with the bill, but it is a good idea to eat a mint before entering the restaurant, too.
What Should You Order to Eat on Your Date?
You are probably wondering what the best thing is to order on a date at a fine dining restaurant, how to tackle the wine list, and how to make sure you're on your best behavior. Luckily, we've got you covered with some simple tips that will make sure you make the best impression.
Although dates are all about having fun, they're also about making a good impression – which can leave us worrying about accidentally putting our foot in it. Out of all the things you might be worried about on your date, eating something that your date finds unpleasant may be at the top of the list. So while you may enjoy Balut(fertilized duck eggs), you probably shouldn't eat this on a first date, or you could gross her out.
Both men and women tend to agree that ordering a dish that's full of garlic is a bad move on a date. That side of garlic bread might sound delicious, but your garlic breath afterward might mean you'll be going home alone. Keep a close eye on the menu and if something looks like it might have lots of garlic, or a lot of spice that could upset your stomach you might wish to avoid it for this first date. Messy foods such as wings or ribs that are smothered in sauces are also a wrong choice for a date, and although you might think its romantic to order aphrodisiac oysters – your date might think you're a little bit presumptuous!
How to order from the wine list at a fine dining restaurant
Wine lists are long and highly intimidating, but wine is a romantic date staple – especially if you're fine dining. It doesn't matter if you aren't a wine person or don't know anything about wine at all – if you order a beer you could be risking going down in your date's estimations as beer does not pair as well with fine dining cuisine. The key to tackling the wine list is just confidence, not many people truly know about wine but looking like you do can win you serious brownie points.
If you dislike wine, choose a cocktail for yourself whose liquor pairs well with the food you are eating. Ideally if drinking spirits then order a martini but if you must drink whisky, select to have a Manhattan. The only exception to this rule is any cocktails on the menu at the restaurant itself which it recommends. Yet you should keep in mind that part of the appeal of fine dining is to share wine with your date, as drinking the same wine together flows well for a making small talk. You can strike up conversation by sharing your thoughts on how the wine tastes with your date, which is a good ice breaker.
Wines come at various price points, but the more expensive a wine is doesn't necessarily mean it's better. When browsing a wine list, pay more attention to the types of wines themselves rather than the prices – you should notice that the fool-proof options we are about to tell you about come at a fair price.
White wine is a fail-safe choice that can be paired with most dishes, but which white wine is right for you and your date? If the woman you're dating is not a wine connoisseur, a Sauvignon Blanc is a fresh and fruity option that you'll both enjoy. However, if your date is a little harder to impress, try Riesling if she's a fan of sweet flavors, or Chardonnay if she's the direct and confident type. Red wines will also pair with any meat and are a safe option, though they best accentuate beef's taste. Fine dining restaurants usually have a selection of red blend wines with various fruits added.
You should know that it is appropriate to ask for a waiter's recommendation on what wine will pair best with the food you are ordering. While bad waiters will only recommend the most expensive wines, a well-trained waiter will recommend a wine intended by the chef to go with the meal you are eating, and this is why that wine is on the menu in the first place. Contrary to your expectations, waiters want their guests to have the most pleasant eating experience so that the guests will leave a good tip and are not motivated to have guests pay the most amount of money for the meals.
How to Practice the Proper Etiquette at a Fine Dining Restaurant
Being on your best behavior is essential for a fine dining date, but not everything surrounding dating etiquette is clear. For instance, is it okay to share food? Will your date care about your manners? It is best to get educated on all of these factors now so that you can impress your date later.
One of the biggest questions when it comes to a dinner date is – is sharing food a no-no? Most men will say that they don't mind sharing food on a date; however, women typically have different opinions. Not only do many women not like sharing food on a first date, but they also don't like sharing food when they're out at a fine dining restaurant! Yet sharing a plate of food can help build romance and attraction, so our recommendation is to gauge your date's opinions on this playing it safe; suggest a side plate or appetizer share. You can share a plate of food together as a main course on a future date if this first one goes well.
Lastly, when it comes to women's biggest turn-offs during a date, the worst offender is usually bad manners. The act of eating food can be done poorly and disgust another person; generally people dislike the sound of smacking lips which is why people should chew with their mouths closed. Following proper etiquette for eating will make the meal more pleasant for your date, and show a good impression of yourself to her. Nobody wants to spend a lot of time with someone who is annoying.
You should also ensure you are polite to the waiters, keep your elbows off the table, and compliment the food. You should also lay your napkin on your lap, like a gentleman, and strive to use the correct utensils for the meal you are eating.
Who should pay the bill for the date?
After a successful fine dining date there's only one more hurdle to tackle – and that's the paying of the bill and tipping. It doesn't matter whether you are new to dating or an old hand, the question of who should pay is an age-old question that many today struggle to find the right answer for. In this final section of the article, we've got all the information you need to finish the night off right.
There are many women who claim to have different opinions about how the bill should be paid on a date, and these opinions will also vary depending on whether it's your first date or not. Fine dining can come with a slightly more expensive price tag, and before you make the call on opting for a fine dining date – you should make sure you'll be willing and able to pick up the bill if that's what she expects.
The options for paying the bill are either that the man pays, the woman pays, or you split it. Typically, a man will pay if he's an old fashioned type of guy or he's trying to impress the woman he's on a date with thoroughly. Most women still expect the man to pay. However, many women will offer to split the bill and pay their way, although this can often be a test to see if the man will be courteous and follow societal etiquettes or not. 
Generally speaking, the chivalrous behavior is for a man to pick up the tab, especially if you are the one that invited the woman to the restaurant. Inviting someone to an expensive restaurant and then asking them to pay half can be considered rude, whether the dinner is romantic or not. By picking up the full bill this marks you in a woman's mind as a gentleman who can act as a good provider for her and any future children, and who believes in traditional models of courtesy, and that is what you want to demonstrate to her, correct?
If a woman insists on splitting the bill this is typically a sign that the date went badly and she has no intention of a second date – she is urging to split the bill because she feels guilty that you have treated her so well and yet she will not have a second date with you. To gauge whether this is the reason, you could test her by suggesting that you can split the bill on the next date instead. If she continues to insist you split the bill, then do it – you may as well reduce your losses.
Rules for how to tip the waiter at a fine dining restaurant
Tipping is something that varies depending on where you are. In some countries there is a certain amount you are expected to tip, while in others, you aren't expected to tip at all and it is considered rude to do so. Many fine dining restaurants also add an automatic gratuity to the bill to ensure the wait staff is properly compensated. Ensure you're informed on the local tipping culture of the area and restaurant you are in; it's not impolite to ask the waiter if gratuity is already included in the bill.
We already discussed the significance of good manners on a date, and tipping is included in this topic. Not tipping, or not tipping enough, is a sign of bad manners that may dwindle a woman's interest in addition to insulting the wait staff, who will remember you next time and may treat you accordingly. However, the tip is also an opportunity for you to make an added gesture of interest towards your date. If you have both decided to split the bill, paying the tip yourself is an additional way to show your date that you enjoyed spending time with them.
Generally speaking, the proper etiquette for tipping is typically said to be 15% of the total bill for normal service; tipping anything below 15% will signal to the waiter that you were unhappy with their service and the food quality. However, fine dining restaurants provide extraordinary service so the proper minimum at these venues is 20% of the total bill. Personally speaking, I am in the habit of tipping 25% at all venues I intend to become a frequent customer at, as I wish for the wait staff to provide me with excellent service on my future visits to their establishments. I also do this at bars, too, and this habit tends to help bring me into favor with the bar staff, which allows me to receive speedier service when the bars get busy. This can be very important for future dates, as not every date you will go is necessarily going to be at a fine dining restaurant. It is very useful for a man who is actively dating to have one or two bars he has an excellent rapport with the bartenders at, and which he can bring dates to. Psychologically, women find men who have excellent social skills more attractive. While the bartenders you familiarize yourself to may not be your close friends, they can be your acquaintances. If bartenders like you, a woman on a date can detect this about you by the body language of the bartenders when interacting with you, and this can make you more attractive.
Final Thoughts for Your Fine Dining Date
Hopefully, this comprehensive guide to fine dining for dates has answered all of your questions, from planning a successful date to avoiding social faux-pas while you're there. If you need a re-cap, our top tips are:
Choose your date location carefully to show her certain qualities about yourself and build attraction.
Fine dining is a great way to get to know your date in a romantic and fun atmosphere.
Pick a cuisine that you will both enjoy!
Approach the wine list with confidence.
Offer to pay the bill, but don't be afraid to split if she insists.
Now that you know all of the secrets to organize a fine dining date that runs smoothly, you should be ready to get out there and win over your date. Good luck!