Often, the words bachelor pad come with thoughts of a glitzy entertainment hub and a well-stocked bar. Yet some people associate bachelor pads with messy spaces, particularly for college students. Decorating your bachelor pad can be quite overwhelming. Over the years the majority of the men have a monotonous decorating style. Consequently, most bachelor pads have a similar interior décor design.
A search on the internet yields many different unique and crafty decoration ideas for a bachelor pad. However, with the hefty price attached in the tens of thousands of dollars, which can lead a man to shy from embracing these ideas. Yet purchasing your own classy gentleman style bachelor pad decorations doesn't have to be so expensive. Below are some epic bachelor pad ideas on a budget to enhance its overall elegance.
What to Look for in a Bachelor Pad
When you are shopping for an apartment, condo or even a house to convert into your bachelor pad you want to look for certain things in the space you intend to live, as some of these elements will make it easier for you to convert the living quarters into a sleek bachelor pad.
Work with a Proper Color Theme for a Gentleman's Bachelor Pad
Identifying the proper color scheme is the first step toward bachelor pad interior design. The color theme impacts the entire décor organization for your space.
Where your pad is small, bold shades will make your space appear bigger. If your bachelor pad is large enough, you could embrace darker hues like red.
Additionally, you could create a natural color blend. In this instance, you alternate between a dark shade and bold color on the walls. You could paint three walls in lighter hues, and one with a dark shade. Subsequently, it draws the eye to the dark wall, and your house looks longer.
For a sleek touch, consider combining silver and dark brown. Red and white hues also yield a classy combination. If you desire a hunting-lodge theme, work with green, navy, grey, or brown.
Exposed Brick Walls
There's no better way to bring a subtle industrial feel to your space than using brick walls. If you have a wall where you can use the exposed brick feature, please don't hesitate to do so.
Exposed brick carries a raw and edgy, yet masculine touch. You could use brick for half of the wall or the entire wall. For your bachelor bedroom, it's best if the brick wall is near the headboard.
Brick is amazingly cheap and incredibly stunning. It blends naturally, for both small and large spaces.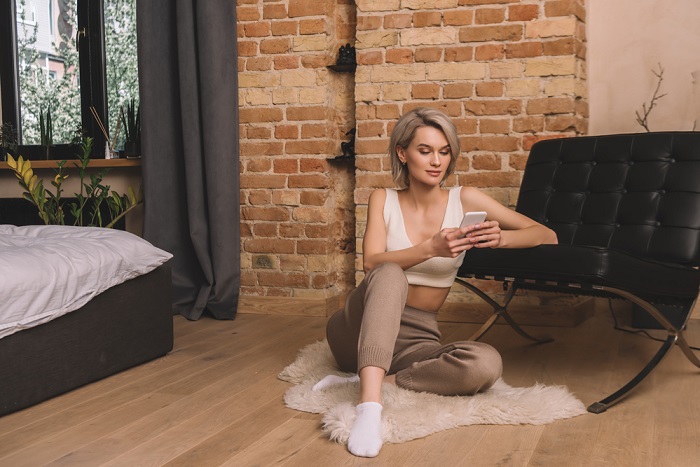 Industrial Flooring
What's a bachelor pad without an industrial look? Masculinity can coincide with an industrial look. Your bachelor pad is the perfect spot to explore industrial home décor.
Wooden floors, especially the rough, hewn ones, cultivate the ultimate industrial spec. Moreover, polished concrete floors are ideal alternatives, with immense versatility. You could also opt for bare floorboards. These warm floorboards are the epitome of masculine interior décor and are aesthetically pleasing.
Bachelor Pad Furnishings
Sharp Rugs for a Bachelor Pad
Most rooms are painted with white walls and so can be modeled just about any way you'd like. With that in mind a rug is one of the easiest ways to add color to build the rest of the room's theme around.
I believe a proper classy gentleman's bachelor pad should be built around an Art Deco style of rug.
Leather Furniture for a Bachelor Pad
There's nothing more appealingly masculine than stylish leather accents. A leather sofa is among the must-have items for every bachelor pad. It's ideal for hosting those discussions with your buddies or enjoying your favorite TV show.
Introducing a leather sofa to your bachelor pad apartment adds the extra classy feel to your space.
Vintage styles are the latest trend in matters of home decoration. However, acquiring vintage pieces can be quite a tall order, especially if you're working with a budget. Alternatively, you could source for fabric encompassing the vintage style.
A sectional sofa is a safe option for a bachelor pad's living room area.
If you are seeking luxury seating for your living room then a leather power recliner from Seatcraft Republic would be an excellent choice.
Entertainment Ideas for your Bachelor Pad
The top highlight for any bachelor pad is the entertainment center. It's never a complete bachelor pad until you incorporate a fun element. The easiest way to do this is to have a billiards pool table.
Yet despite desiring a pool table at your pad, space constraints can be a significant hindrance. Not all bachelor pads are sizeable enough to accommodate a pool table. Consequently, creative space-saving comes into play.
The most straightforward idea is screwing a dartboard directly to a wall. Thus, the dartboard acts as the focal point for your room. On the other hand, you could fit the dartboard into a classy, wooden cabinet as well.
Lighting for your Bachelor Pad
A living room is also benefited by lights. We recommend these affordable, very stylish type of lights that have an Art Deco kind of style to them.
Bachelor Pad Bedroom Furniture and Decor
A gentleman should have a modern designed bed. Ideally you want at least a queen sized bed, as a smaller bed is more difficult to have intimate encounters in.
The bedframes I recommend do not require a box spring. This is because I recommend purchasing a Tuft & Needle mattress. These memory foam mattresses are the most comfortable I have ever slept in and they don't absorb heat so your sleep is very comfortable in it.
Optimizing Storage Space for your Bachelor Pad
With most bachelor pads being small, storage space comes as a significant challenge. You'd be surprised at the pretty diverse ideas you could incorporate to optimize your storage space.
First off, go for furniture that doubles as a storage place. Such furniture comes with enough space to enable neat storage for your items.
While purchasing a coffee table, it's best if you go for one with under-drawers. Moreover, consider purchasing ottomans that are hollow inside. With such furniture, you eliminate the need for plastic storage bins and boxes. Not only do you save on the floor space, but also enhance your room's neatness and tidiness.
Functional Art for a Bachelor Pad
Without a doubt, art is the moth to every home's crisp lighting. Art has a way of brightening even the dullest of places. Classic art pieces will go a long way in bringing life to your bachelor pad apartment. Check out for distinctive pictures for which you won't break your bank. However, you don't have to be a lover of classical art.
Among the most magical bachelor pad ideas on a budget is embracing functional art. Functional artistic display doubles as an excellent means to save on storage space.
For instance, you could be short on space for keeping your bike. There are creative ways to store the bike, instead of having it leaning by the door. Create a focal point out of the bicycle. You could mount it on the ceiling or wall for a cool artistic display.
If you play the guitar, consider mounting it on the wall too. Hanging it brings a unique sense of style, while at the same time reflecting your personality.
You can also invest into a modern designed record player. While digital media has become far more affordable and accessible, the sound of vinyl records has a distinction to it which many audiophiles enjoy. It has become very trendy to listen to vinyl records again and having a classy record player as a functional piece of art and decoration can be a good fit for your bachelor pad.
Wall Art for a Bachelor Pad
Lastly you can hang art deco style wall art. This is the most straight-forward way to achieve a modern gentleman's bachelor pad look.
Bachelor Pad Kitchen
Being a single man, you're likely to go ham on ordering eat-outs, with lazy cooking habits. However, the kitchen is the heart of every home, and even doubly so for bachelor pads.
Embracing a healthy lifestyle starts by having a well-equipped kitchen. It's best if you put some effort into enhancing your pad's kitchen. Upgrading your kitchen doesn't have to cost an arm and leg.
Incorporate kitchen appliances, especially those who help you to whack up quick meals. A fridge, microwave, toaster, and coffee maker are must-have kitchen items.
Additionally, go for surfaces with as much storage space as you require. Your kitchen counter surfaces should be easy-to-clean to ensure all-time neatness and cleanliness. For a masculine, sleek twist, ceiling or wall-mounted pot hangers will do the hack. Don't forget to install magnetic knife strips.
Home Bar
The other critical thing for a bachelor's home pad is the bar cabinet. Every bachelor dreams of owning a home bar. With a bar cabinet, you can comfortably invite your friends over for a drink. Your bar cabinet provides the necessary center of attraction, particularly when hosting parties. Your space is a significant determiner of the home bar size.
Where you're short of space, consider incorporating a drinks trolley. The drinks trolley embraces a minimalist design, while at the same time providing the necessary fun. If working with a vintage theme, a vintage-style cocktail table is a classical masterpiece.
Hopefully these ideas for decorating your bachelor pad will help you decide upon a style.