Oxfords are the most common type of dress shoe that men wear with a business suit or any kind of formal attire. Many men are familiar with the famous Kingsman film line, "Oxfords, not brogues", yet many men today have little idea what Oxfords or Brogues style of shoes even are. We here at The Millennial Gentleman are going to help you by providing this very easy to understand guide on what Oxford shoes are and clear up some confusion that is commonplace; as it turns out, the famous movie line from Kingsman is mistaken, as an Oxford shoe can actually be a Brogue, too.
What are Oxford Shoes?
The answer to this question can be controversial yet the Oxford shoe has one chief trademark: the open lacing system characterized by shoelace eyelets tabs that are sewn from underneath the leather vamp of the shoe. This is compared to other types of shoes such as Derbys where the eyelets are sewn on top of the vamp.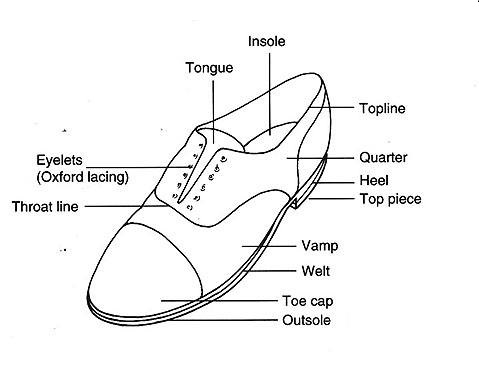 Strictly speaking Oxford is not a type of shoe but rather a type of lacing closure for how the eyelets are sewn, and which can be used on many kinds of shoe. Likewise a shoe that has an Oxford lacing system can have numerous types of toe cap styles (wingtip, semi- quarter and longwing). Other types of closure systems a shoe can have are Derby, Ghillie and Monk strap.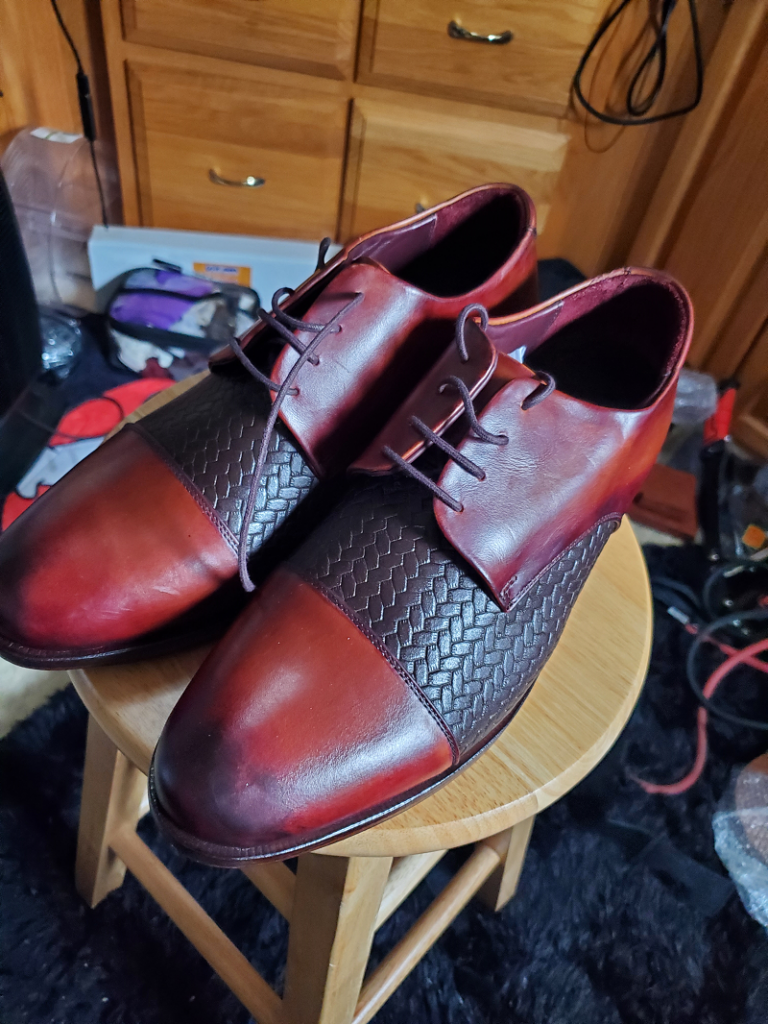 The term 'Oxford' is a reference to the famous Oxford University. While this type of shoe did not originate from Oxford University its predecessor the Oxonian half-boot did, and which popularized this style of lacing system. The Oxonian half-boot eventually evolved into the contemporary Oxford shoe we know of today, which is more comfortable for wearing for long periods of time as it has an exposed ankle.
Now the term ' brogue' is not actually a unique type of shoe but rather describes a decorative style that can be applied to multiple types of shoes, including those with Oxford style lacing closures. Generally speaking a brogue style of shoe can have multiple layers to its vamp and other kinds of decorative embellishments to it. The term 'brogue' refers to the broguing, or decorative holes that appear on this kind of shoe. This style of decoration traditionally is popular on footwear meant for the outdoors, such as nobles would wear when hunting. Broguing is commonly believed to have originated among Scottish and Irish boot design fashions and like many of these customs, embraced by British nobility which popularized it among the rest of European society.
Broguing can be performed to bespoke shoes and boots. For reference here are some brogue style boots that that I personally own,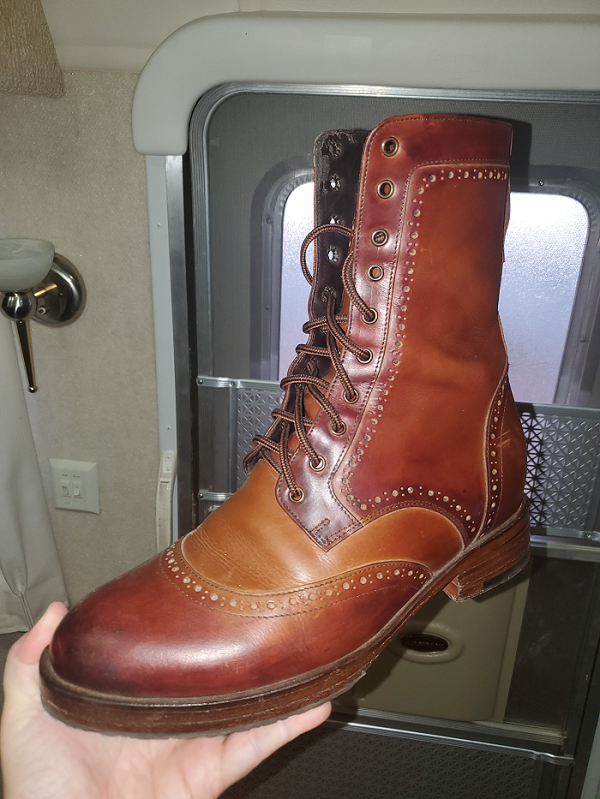 Oxford shoes that are devoid of any broguing may simply be referred to as a plain Oxford shoe. With that in mind it would have been more correct for Colin Firth's Kingsman character Harry Hart to have said, "Plain Oxfords, no brogues" instead of "Oxfords, not brogues".
Personally I like broguing on my shoes but tastes can differ. Shoes and boots with broguing dirty much easier as the perforation can easily be clogged up by dirt. When polishing a shoe or boot that has broguing on it, care has to be taken to remove polish from each individual hole and this can be time consuming compared to shoes without broguing. The best thing to do is to use a toothpick or small slender toothbrush to remove these clogs.
Broguing Toe Cap Styles for Oxford Shoes
Broguing toe cap styles for Oxford shoes are similar as for other kinds of dress shoes. These are,
Wingtip
Semi-brogue
Longwing
The wingtip is characterized by having an extension that runs the length of the shoe up to the lace stitching on the vamp while a longwing has a decorative line that runs back to the heel. It is also worth mentioning that when broguing runs up halfway of the toe cap it is considered a semi or half-brogue and when broguing runs the entire vamp then it is considered a full brogue.
What Colors Should Oxford Shoes Be?
Traditionally shoes with Oxford lacing closures are brown or black, but some people also find oxblood, chestnut, burgundy or even white Oxfords to also be trendy and fashionable. During the 1920s and 30s two-tone Oxford shoes became trendy, especially black-and-white two toned Oxfords.
That said, it is safest to stick with black or brown colored Oxford dress shoes as these will go with nearly any business suit, tuxedo and business casual attires.
What kind of socks should be worn with Oxford dress shoes?
Men should wear dress socks that cover the ankles when wearing any kind of dress shoe. Oxford shoes are a low cut shoe, so they expose the ankle. A man who wears white athletic socks will stand out like a sore thumb. We recommend wearing these very affordable polyester socks from Dockers but even if you do not purchase them, they can be used as an example of what kind of socks you should be wearing with Oxford shoes.
Where to Buy Affordable High-Quality Oxford Shoes?
I have mentioned Don's Footwear several times because honestly, I love them. I happen to be a man who is on the shorter end of the spectrum and have become a fan of wearing elevator shoes to give an extra lift. Don's Footwear specializes in producing height increasing bespoke shoes and boots for men but they produce normal shoes, too. I find their elevator shoes particularly comfortable, as they produce their shoes using a flat sole instead of an arch design. Most elevator shoes are designed like women's high heels and awkward to walk in; Don's are instead flat soled, so you can walk normally and most people will never notice the difference. You can even dance in them. And if you are going to shell out for bespoke dress shoes, why not add a little boost in your step?
You can of course also purchase off the rack Oxford shoes from websites such as Amazon. Here is a link to numerous kinds of Oxford shoes that are more affordable and will look great on you — though perhaps not as great as a pair made by Don's will!
Whichever shoes you purchase, I encourage you to replace the shoe laces that come with them. I personally find the laces that are sold with dress shoes to not hold a tie as well as they are often very stiff, with shoe makers intending their customers to replace the laces anyway. I use these DIFFWAY waxed shoe laces for my Oxford shoes. I believe they are some of the most affordable high quality shoe laces available.
We hope that you have enjoyed this guide to men's Oxford dress shoes from The Millennial Gentleman. Let us know if you have any comments, feedback or other questions in the comments below.